The world of digital marketing services is changing rapidly, and we're seeing innovation after innovation pops up. As part of this innovation, digital marketing campaigns combining the techniques of Pay Per Click marketing PPC management and SEO Toronto techniques are becoming popular. The shift in focus towards PPC is because of the attention Google pays to paid searches online.
Search engine optimization or SEO marketing online has its own perks, but it falls short when it comes to being the single best way for achieving more conversion and better traffic. This is where PPC marketing comes. Pay per click, or PPC, gives consumers a chance to augment SEO and generate results that digital marketers crave.
What to Focus on?
Before we get to mention the tips that are required for maintaining and building a hybrid model, we would first shed some light on what it takes to get started on such a campaign.
The first step to digital marketing glory, in all cases, is great content. Your content marketing strategy is centered on your content, which is why there is little for you to achieve if your content isn't compelling or readable. The content should lure readers in and should be relevant to whatever core service you have to offer.
Content generation is the first step of the process and ultimately leads on to further glory. To put it in perspective, it is essential that you generate consistent content that is relevant to your industry. To understand the type of content that should be going on your website, you need to know your target audience. All great content starts from knowing your target audience and how you can serve them better. Get to know their interests and dislikes, and then create a consistent strategy.
How to Maintain a Successful Hybrid Model?
All successful hybrid models, involving PPC and SEO, require the amalgamation of keywords. Keywords aren't just necessary for setting the direction of your content, but they also set and form relations with people further down your conversion funnel.
So, before you get to maintaining the model and ensuring its consistency, you need to do your research with keywords. Know your keywords and follow the SEO campaign with consistency.
Set Shared Goals
The first and most important way to maintain and ensure results from a hybrid campaign is to set shared goals for both PPC and SEO. Running a successful hybrid campaign includes analyzing the use of statistics, looking over bounce rates and seeing the number of visitors. So, to improve the synergy between both these models, you need to ensure that the goals set are shared and similar for both.
Once you set the goals or aims to be the same, you will also start using the same KPIs or key performance indicators to define the success of the model. You can use the KPIs from your PPC campaign into SEO and generate similar results.
To start with, you should stop treating your PPC and your SEO campaigns as two different digital marketing initiatives. You have to place them on the same boat, and gradually raft towards digital marketing glory.
Coordination between Teams
Considering the varied skill set required for looking over both these forms of content marketing online, you should have separate teams for that. However, it is up to you to ensure that there is feasible communication and coordination between both of these teams. Any lack of communication or coordination might set you at a distance from achieving your goals, and might come and haunt you later.
All great hybrid campaigns are made successful through the coordination of teams for SEO and PPC, so you need to realize the importance of having coordination between these two teams, and should ensure that there aren't any barriers to communication, as part of the organizational culture or something.
Optimize PPC Landing Pages
Any digital marketing campaign focused on PPC has to optimize the landing pages associated with the marketing method. The landing pages associated with your PPC campaign need to be optimized, so that the customers coming to them don't just bounce away. Since you're paying for every click, it is best for you to not lose on any customer. You can ensure customer satisfaction and retention by having pertinent landing pages that attract customers to whatever you're offering through them.
However, since PPC teams aren't well versed when it comes to understanding behavior and running behavioral analysis, they often find themselves at a loss of data on how to optimize the page. This is where the SEO team can come in handy, as they can give critical information regarding consumer behavior to the PPC team. This critical information will be centered on subjects such as how to reduce the chances of a high bounce, increase the times customers spend on your page and increase the click-through rate.
The Holistic Results
The ultimate end goal or the desired result of a hybrid approach is to achieve both organic rankings and PPC traffic. While PPC traffic can be perfected and increased through page optimization, it is best for you to focus on keywords to get your offerings to the top.
An ideal hybrid campaign would be something of the sorts that Sonos achieved back in 2015. Their agency ran a PPC campaign for the keywords that their organic SEO was already doing really good at. What this meant was that Sonos was everywhere and had multiple entries on the first page of Google searches for a specific keyword. This brought in massive revenue generation for the agency, along with a healthy rapport. The screenshot below shows their end result, and how they were ranking on the spots that mattered.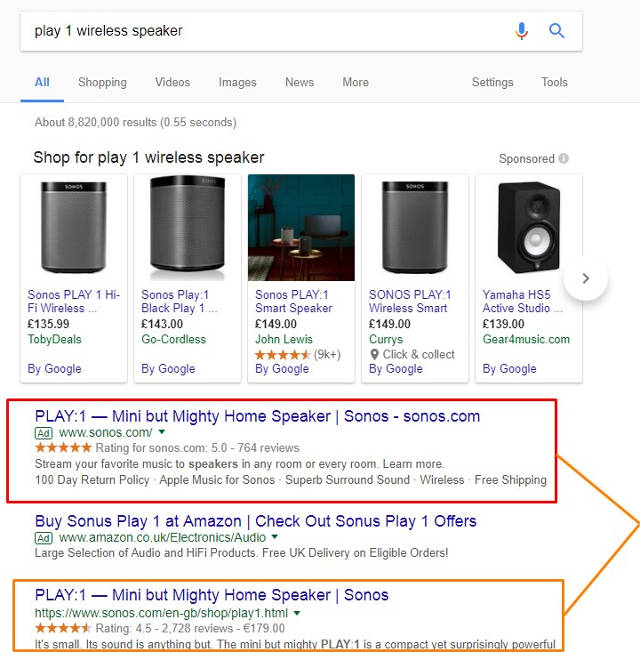 Your total expenditure on PPC marketing and SEO can vary based on numerous factors, including the industry you operate in, and the cost per click, set by Google. However, keep in mind how well they perform along.